Buying a new phone is one of the biggest decisions you can make. Not only will you likely be spending upwards of $800 on this purchase, but you could end up spending up to five hours a day on your mobile phone. Needless to say, you want to make sure the device you choose is the right fit.
Google Pixel 3
When Google launched the Pixel 2 in 2017, they challenged consumers to "Ask More of Your Phone." With the advent of Google Pixel 3 and 3 XL this year, the company seems to have taken their own advice. With a 5.5-inch, a higher-quality screen with an OLED display, excellent design, and an impressive camera, the Pixel has moved from being a great option for Google fans to an easy choice for all. Part of the improved visuals is due to its new color mode called "adaptive," which increases the vibrancy of most images without distorting them. It also features an adaptive battery, which limits battery for apps you use less often, and wireless charging capabilities.
One of the perks of buying a Google phone is how deeply integrated it is with the company's other services. For example, with Google Lens, you can point your phone at objects to find them online, identify landmarks you come across in daily life, add events to your calendar and more. You also get free, unlimited online storage with Google Photos. Or, just say "Hey Google" and get the phone to answer any of your requests.
Razer Phone 2
Razer began the smartphone gaming craze when they released their flagship phone in 2017, and the brand new Razer Phone 2 continues that legacy. Built for gamers who love to play their favorite titles on the go, this smartphone boasts a brighter 120Hz display, 8GB of ram and a 5.7-inch screen. It also comes with several upgrades over its predecessor: a Snapdragon 845 processor, a new camera setup, improved cooling (which means higher frames per second) and water resistance.
Besides its ability to organize and optimize games, the Razer Phone 2's most defining feature has to be its Chroma system which displays brilliant light in millions of different colors. You can also customize how it reacts to different events and notifications, whether that's with static, spectrum cycling or "breathing" light.
Another unique aspect of the phone is its glass back — compare this to most smartphones which have backs made of metal. While the glass may not prove to be as durable in the long run, it does look stylish. More importantly, it permits fast wireless charging. Razer has stated that the 2's camera will be much improved over the first generation, with two 12MP cameras on the back, though time will tell whether it delivers what it promises. Available now for pre-order, the U.S. release date for the Razer 2 is set for October 22.
iPhone XS
The iPhone XS is smaller than the other new phones in Apple's lineup (the XS Max and XR), coming in at just 5.8-inches, but what it lacks in size it makes up for in quality. The screen on the XS is exceptionally bright, with vivid Super Retina OLED panels delivering crystal clear images.
Like the Razer 2, the iPhone XS has dual 12MP cameras, though these come equipped with Smart HDR for greater detail and color in your photos. It also features Apple's signature Portrait mode, TrueDepth camera, and a wide-angle lens. Considering Apple has built the iPhone brand on their picture quality, you can expect nothing but the best here. An A12 Bionic processor keeps the phone running at top speed, significantly outperforming other smartphones in the category.
For die-hard Apple fans, the XS won't disappoint, though don't expect it to come cheap. The 64GB model of the iPhone XS is priced higher than other smartphones on the list, at $999, while the XS Mac is priced at $1,099. You can upgrade either phone to a 512GB version for an additional $400.
Galaxy S9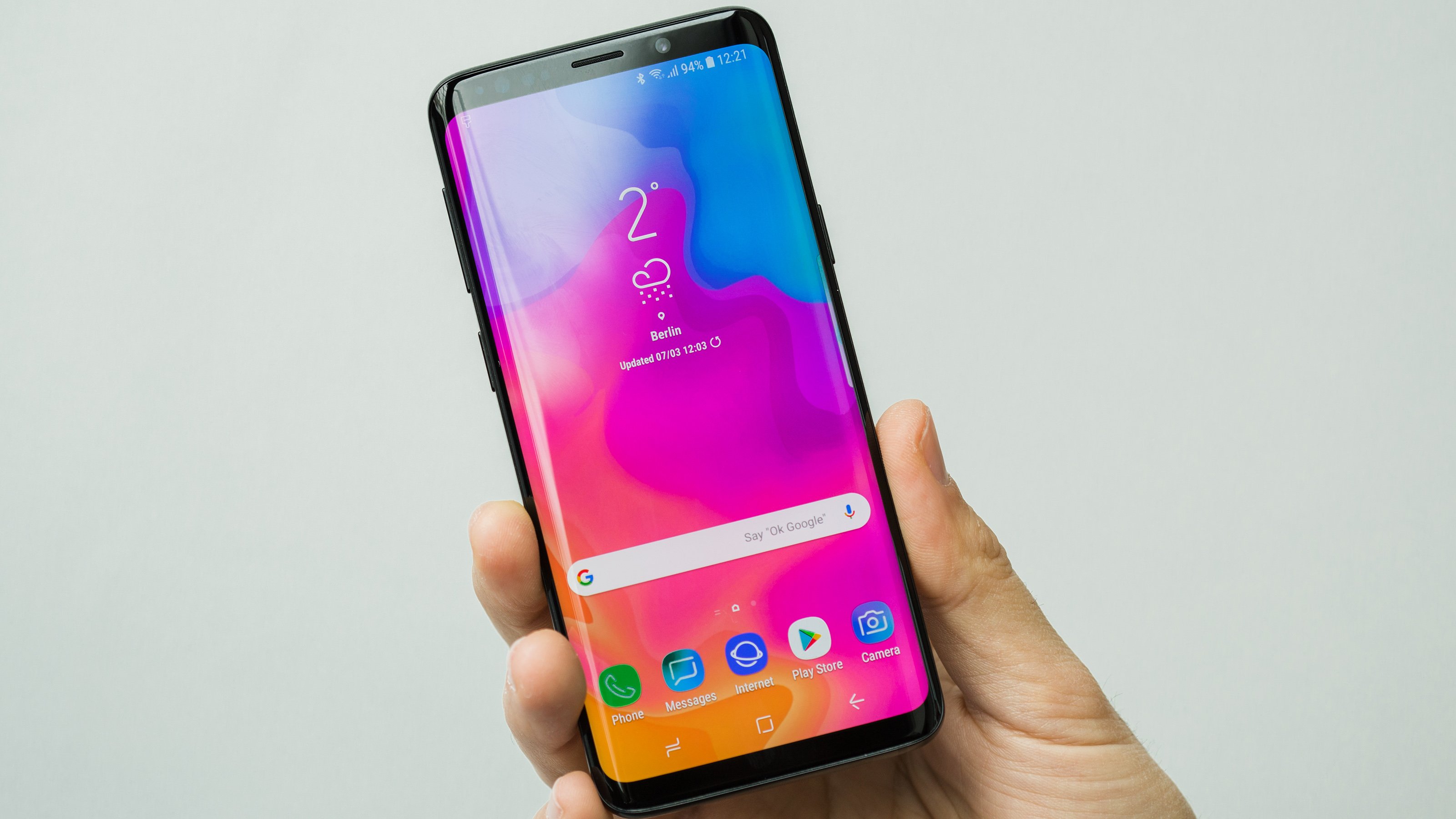 Samsung hasn't reinvented the wheel when it comes to the Galaxy S9. They have tweaked some of the phone's features to deliver a more enjoyable user experience, however. If you're already satisfied with your Galaxy S7 or S8, you're going to love the newest model.
This phone excels when it comes to design and display. Made with curved glass on both the front and back, the device is comfortable to hold and manipulate, albeit less durable than a metal-backed phone. The OLED panels provide a stunning picture (what else would you expect from the consumer electronics giant?) and a bright, easy to read display. The Galaxy S9 is also an excellent choice for gamers, featuring a Snapdragon 845 processor and 4GB of ram, the same as the Razer.
At 5.8 inches, the Galaxy S9 has the largest screen of our 2018 picks. Still, it doesn't manage to squeeze in a second camera, featuring only one 12MP dual-aperture camera. Its camera abilities are fairly comparable to that of an iPhone XS or Pixel 3, even still, and its low light capabilities can be described as amazing. The images created are slightly warmer and have a distinct Samsung look to them, so choosing between this and the other phones on the list will depend largely on personal preference.

Arcticle is inspired from https://www.forbes.com/