Portable projectors are a total fit for the scenario where you don't need a full-blown, complicated projection system. Whether you're looking to entertain the kids before bedtime, watch your favorite football matches during an evening BBQ in the garden, or otherwise – here is a gadget you can transport easily between rooms or homes and set up with the little hassle.
BenQ GVI Availability & Price
The BenQ GVI is available now, in UAE and is priced starting from AED 1,225 on various eCommerce platforms.
Design & features
Totally intentionally, the GVI looks more like a portable speaker than a projector. The speaker grille elegantly meets the top projection part, separated by a bright yellow band. The actual projector can tilt upwards up to 15 degrees, and the entire unit can also fit onto a standard camera tripod mount.
Benq GVI is palm-sized designed with a convenient tilt hinge and auto keystone correction. The device also comes with wire-free connectivity with dual-band Wi-Fi (2.4G/5G) and a direct hotspot
On the top, you've got four buttons – two for adjusting volume, and one button to turn the unit on. There's also a button that toggles the GVI between being a projector and just a Bluetooth speaker. There's a manual focus ring to the side too, while the GV1's auto-keystone ensures that you always have a well-aligned image.
At the back are two ports, one for a power adapter and a USB-C port for connecting a device such as a compatible smartphone or laptop (BenQ includes a USB-C to USB-C cable with the projector). You can also connect a USB-C card reader to project content such as photos or videos of a memory card or USB drive.
Technicalities
That's pretty much what the BenQ GVI promises to do – just connect your smartphone or laptop to it via cable or wirelessly, and you should be able to enjoy your favorite movies and TV shows.
This wireless projector has Bzuilt-in Smart TV Apps for video streaming and gaming fun
Light up your get-togethers, work, and play spaces, or wherever you go with BenQ GV1 ultraportable battery projector. Simply designed for totally wire-free fun, GV1 instantly streams movies, videos, music, and more with the latest WiFi, Bluetooth, and USB-CTM connectivity.
GV1 frees you from setup hassles, poor wireless connections, and cumbersome cables to just start enjoying videos, social media, music, and games. Whether you're hanging with friends, cooking for family, or even working out, GV1 simply fits your life.
A convenient tilting hinge lets GV1's high-mounted lens produce 100" images anywhere, and its auto keystone feature keeps the picture perfectly squared.
GV1 weighs only 708g(1.6 lbs) and is about the size of a coffee cup or water bottle, letting you enjoy big-screen mobile entertainment anywhere.
Wire-free connectivity with dual-band 2.4G/5G Wi-Fi and direct hotspot simply works without wires for your mobile wireless projection.
GV1's do-it-all USB-CTM port can stream media and charge your mobile device or even play media files from a flash drive.
Robust 5-watt chambered audio turns GV1 into a portable Bluetooth speaker.

Enjoy the movies, music, gaming, or any streaming content directly from the smart GV1.
Simple Setup In Seconds
GVI includes a convenient tilting hinge at its neck, letting you project the big picture at the perfect height to view comfortably.
Wireless Entertainment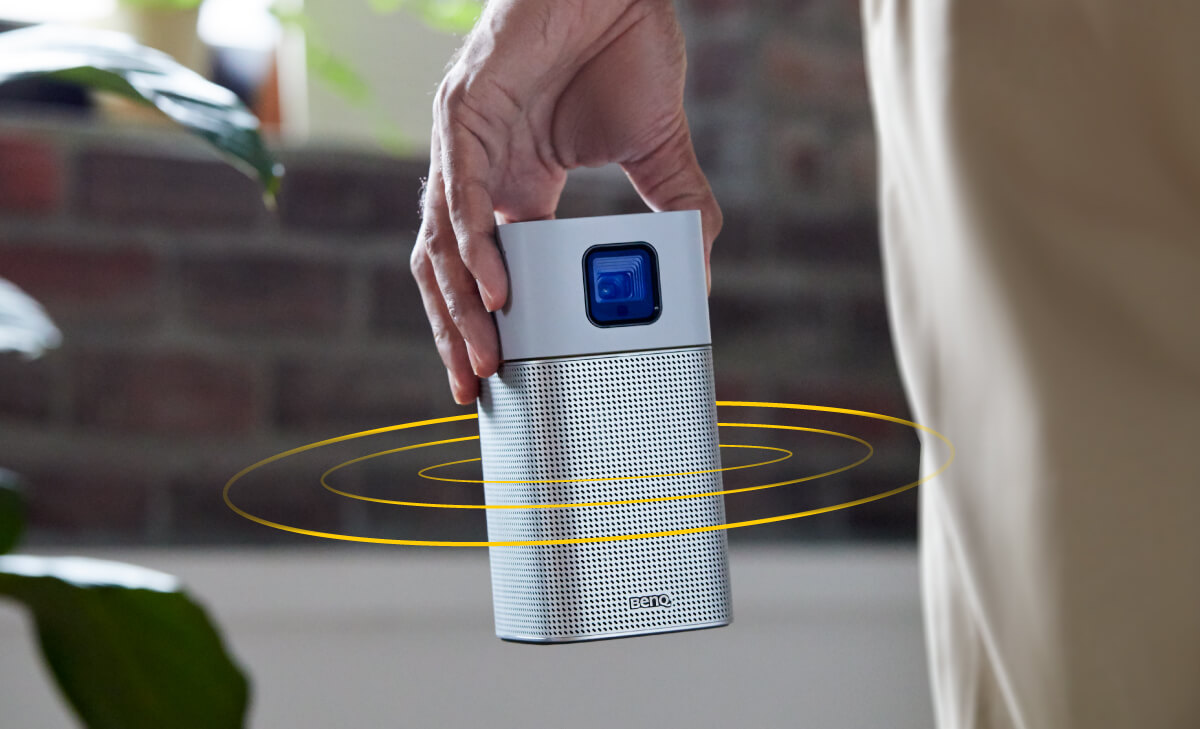 Entertainment Unleashed – To enjoy the movies, music, or even immerse in the gaming thrill, just install the smart apps* to unleash the endless fun from the wireless.
Easy OTA Updates – Always keep your GV1 up-to-date with the latest streaming apps, display drivers, software, and firmware via OTA (Over-the-Air) live updates.
Wire-Free via WiFi, Bluetooth, or by Itself – GV1 streams videos, games, or music via dual-band Wi-Fi and Bluetooth from your mobile*, PC and laptop devices, making it truly cable-free. Even when there's no signal, it has its own Wi-Fi hotspot to stream wirelessly from your device's local storage.
USB-CTM for the Latest Smart Devices – With the latest phones, tablets, and laptops switching to USB-C, you can also connect to GV1's single USB-C port. This handy port can also simultaneously charge your device or play videos and music from a USB flash drive.
Media Streaming – Using DisplayPort over USB-C, GV1 can stream videos, games and music from smart devices.
Power Supply – GV1 supplies power to your mobile device, which means it can charge your device while you're enjoying your streaming media.
USB Reader – GV1's USB-C port is also a media reader that can play movies, videos, and music directly from a USB flash drive
Bright and Long Lasting Pure LED Light
GV1's advanced LED projection light source lasts 30,000 hours for years of spontaneous instant-on entertainment. Its LED-powered high brightness showcases big-screen entertainment up to 100".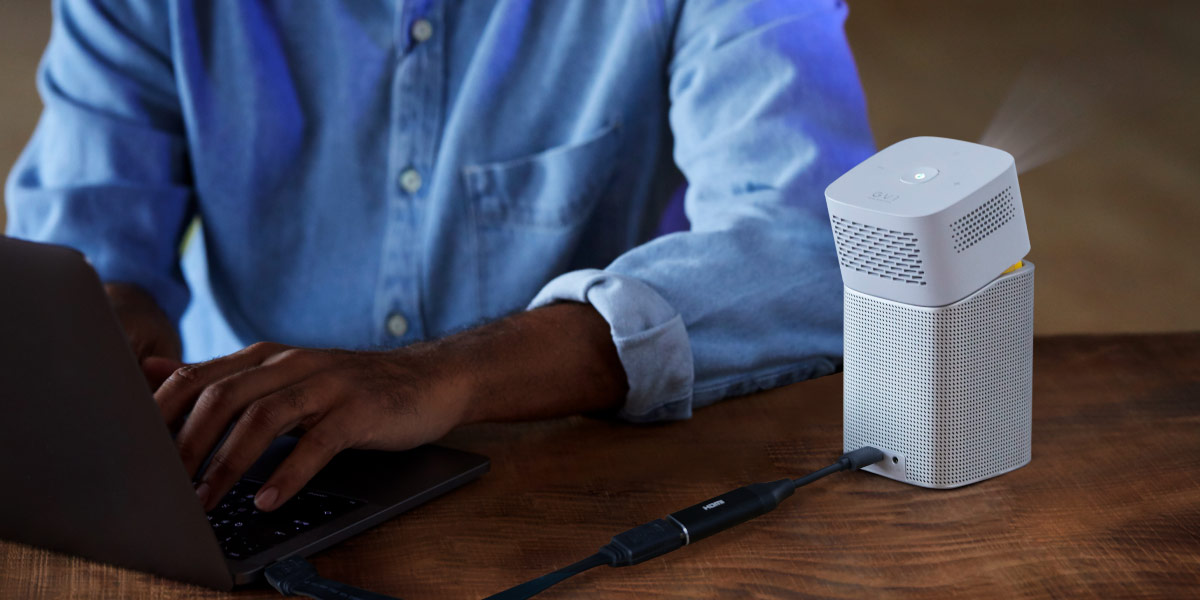 Loud and Clear Bluetooth Speaker Mode
GV1 becomes a battery-operated portable Bluetooth speaker at the touch of a button, bringing crystal clear music wherever you go. Its powerful 5-watt chambered speaker fills the room, all without any wires.
Perfect for Binge-Watching
GV1's 3-hour battery life gives you plenty of time to enjoy full-length feature films with friends and family, catch up on your favorite shows, tune in to the big game, or even play one yourself on the big screen.
Entertainment in a tiny package
GV1 weighs only 708g(1.6lbs) and is about the same size as a venti cup of coffee. GV1 comes with a USB-C cable, remote control, power cord, and a protective fitted bag designed to simply carry the projector.
On Geekfence we give this product 4 stars out of 5. If you want entertainment wherever you go this product is essential.