Apple's WWDC event began on Monday with a keynote presentation, during which the brand announced lots of new software upgrades as well as a few random pieces of hardware. This event had a weird mix of virtual and live crowds at the company's California headquarters. Apple, as predicted has spent a lot of money on software updates. 
The tech giant unveiled many new software upgrades for the iPhone, iPad, Mac, and Apple Watch at the event. Apple also announced new hardware improvements for its MacBook series, including the newest version of its distinctive silicon processor.
Though many of these features are now live, others will be released later this year. Finally, the MacBook Air and Pro that are just introduced are now available for purchase.
From June 6 to 10, the Worldwide Developers Conference will continue. We've summarized everything that Apple has announced for those who didn't have the opportunity to watch the live feed and don't want to waste time watching it afterward.
Apple has made many changes to the lock screen as it'll be getting overhauled. Apple has announced more customization options and you'll also be able to add widgets that will include widgets for the third-party applications. 
Moreover, notifications on the lock screen will now roll in from the bottom of the screen. Three major upgrades are also coming to Messages. One is the ability to modify any sent messages, which is important for fixing mistakes, as well as the option to unsend a message. 
Apple has also included "SharePlay" apps to FaceTime and Messages in iOS 16. You can now change between typing and voice dictation, with the emoji being picked up from your voice as well.
Apple has also launched "Apple Pay Later," which allows you to split an Apple Pay purchase into four equal installments with no interest. Also, you could now create a shared library with your family, and you can choose whether a photo is saved to the shared library or to your personal collection when you take it.
CarPlay is undergoing a major UI overhaul to better connect with your vehicle's built-in displays. Apple says that CarPlay will operate with any car's built-in screen, regardless of its design or layout.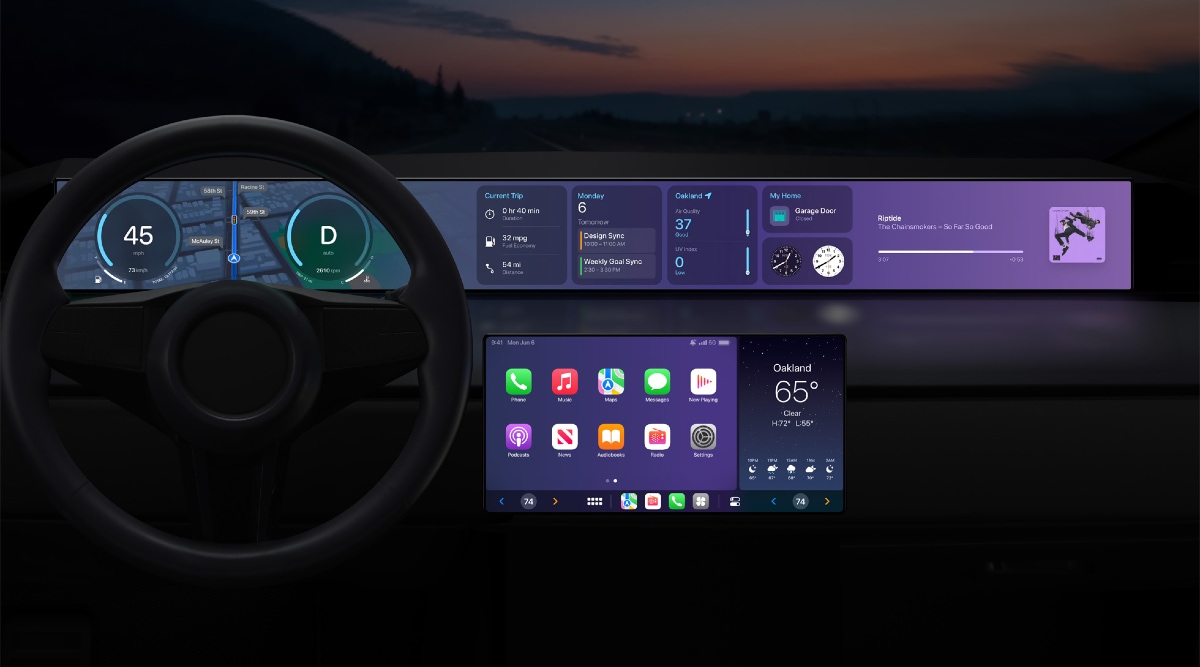 Apple has announced watchOS 9 with many updates which include four new watch faces, enhanced fitness, a sleep tracking feature, banner notification, and new running metrics. A new option for triathletes has been added to the watch's Workout app, which can automatically transition between cycling, swimming, and running. 
Returning to the iPhone, you can now use the camera to scan and track your medicines to ensure you don't have any harmful drug interactions.
With the release of its customized M1 processor, Apple blew up the market, combining incredible speed with insane power economy – it's really quick, yet your laptop's battery will indeed last all day.
Now it's returning with the M2, as the name suggests. Apple claims that the M2 CPU is 18% quicker than the M1 and that the GPU is 35% speedier.
This will be the first MacBook Air that will be running the new M2 processor and will be sporting a completely new fresh look too. 
The new MacBook Air is one of the thinnest and lightest Macs ever, measuring 11 millimeters thick and weighing 2.7 pounds. The MacBook Air also has a 13.6-inch screen with 500 nits of brightness and 1 billion color support.
The Pro will cost $1,299 and will be available next month.
Surprisingly, after introducing the new and updated MacBook Air, Apple has decided to keep the old MacBook Pro on the market and upgrade it with the new M2 CPU as well.
We received our first glance at macOS 13, which has been called Ventura. When you go between programs, this system puts your applications into a single-window mode, which pushes everything else to the left.
The spotlight will also be changing with the ability to bring rich data into a new scrolling interface and the ability to do things like rapidly explore a discovered file without having to open it.
Reminders, unsending emails, and message scheduling are among the new features added to Mail.
Safari will now be able to use this passkey rather than passwords, a system developed in collaboration with Google and Microsoft that allows you to log in to websites and apps using biometrics such as fingerprint sensors or face recognition.
Finally, Apple demonstrated how macOS Ventura will allow users to access consistently use an iPhone as a camera. Finally, you can transfer FaceTime calls from your iPhone to your Mac without having to disconnect and reconnect.
Apple is also improving collaboration in its Microsoft products, such as Pages, so that other user may make updates in the same way that Google Drive does. Other programs, like Files, Keynote, Numbers, Pages, Notes, Reminders, and Safari, should support collaboration as well.
Apple is also adding a Display zoom function for all M1-equipped iPads, which allows users to increase the screen resolution of their display.
Finally, after 16 revisions of iPadOS, Apple tablets will get an official weather application.